7PZ IP Outdoor PAR Can with RGBW LEDs & WiFLY
« return to previous page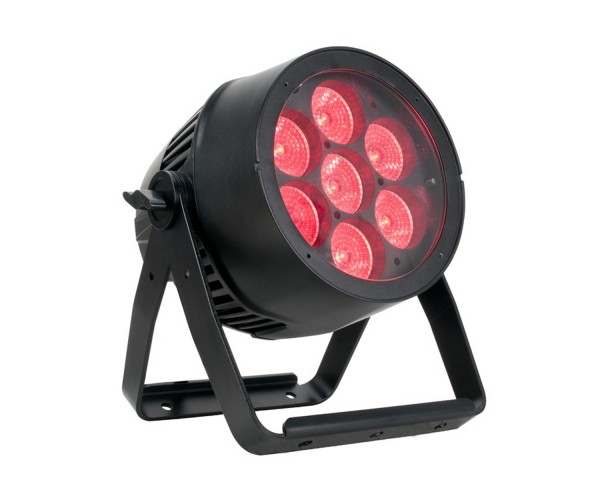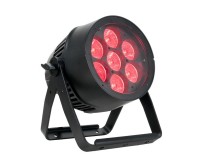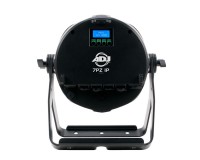 Price:

Code:

ADJ1226100332

Manufacturer Code:

1226100332

Brand:

Stock availability:

Stock:
Main Features
Light Source: 7 x 15 Watt Quad (RGBW) LEDs
LED Life Expectancy: 50,000 Hrs
Beam Angle: (5 to 45-degrees)
Refresh Rate: 1.8KHz
Compatible with ADJ's WiFLY Protocol
64 built-in Color Macros
7PZ IP Outdoor PAR Can with RGBW LEDs & WiFLY
The 7PZ IP is a heavy duty, metal IP65 outdoor rated 105W LED Par with motorized zoom and ADJ's WiFLY EXR wireless DMX built-in. It features seven 15W quad (4-IN-1 RGBW) LEDs with 64 built-in color macros. There are 5 dimming curves plus smooth 0-100% electronic dimming. With 5 operational modes, 4 DMX channels modes and 4-button menu with function display, the 7PZ IP has a varied of control options. The zoom range is 5 ~ 45-degrees.
Product Features
Light Source: 7 x 15 Watt Quad (RGBW) LEDs
LED Life Expectancy: 50,000 Hrs
Beam Angle: (5 to 45-degrees)
Refresh Rate: 1.8KHz
Compatible with ADJ's WiFLY Protocol
64 built-in Color Macros
Product Specifications
General
Light Source: 7 x 15 Watt Quad (RGBW) LEDs
LED Life Expectancy: 50,000 Hrs
Beam Angle: (5 to 45-degrees)
Refresh Rate: 1.8KHz
Compatible with ADJ's WiFLY Protocol
Strobe (electronic)
64 built-in Color Macros
5 Operational Modes: Color Change Mode; Color Fade Mode; Auto (Program Run) Mode; Sound Active Mode and DMX-512 Mode
4-button LED Display on rear panel
Electronic Dimming 0 – 100%
Flicker Free
WiFLY EXR DMX Range: 2,500 feet /700M (line of site)
Wifly On/Off
Dual bracket yoke allows fixture to be hung or set on the ground
Power Input: powerCON True1 AC
Power Pass through: powerCON True1
Data: 3 Seatronic IP connection
12 DMX Channel Modes
16 Selectable WiFLY Address Channels
Input Voltage: 100-240V 50Hz/60Hz (Auto Sensing)
Power draw 120V 60Hz: 128W
Power draw 220V 50Hz: 128W
Metal Black Housing
IP 65
Physical & Dimensions
Length: 270mm
Width: 350mm
Height: 380mm
Weight: 11kg