ULTRA HEX Bar 6 0.5m Linear Bar with 6x10W RGBWA+UV LEDs
« return to previous page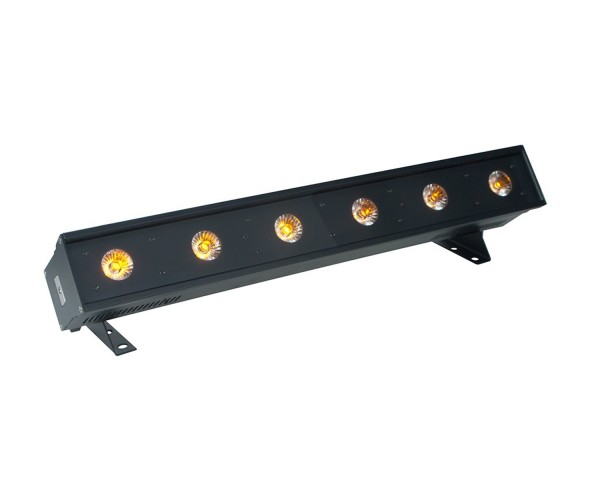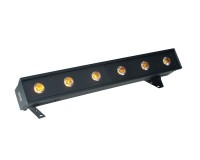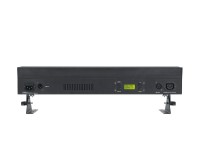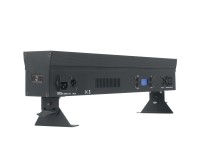 Price:

Code:

ADJ1226200044

Manufacturer Code:

1226200044

Brand:

Stock availability:

Stock:
Main Features
Ultra bright, 0.5 metre indoor Linear Bar
Smooth RGBAW + UV color mixing
Great as an architectural wall wash or for performance stages
63 built-in Color Macros
6 operational modes
5 DMX Channel Modes
ULTRA HEX Bar 6 0.5m Linear Bar with 6x10W RGBWA+UV LEDs
The ADJ Ultra HEX Bar 6 is a versatile LED Linear fixture with 6x 10-Watt , 6-IN-1 HEX LEDs. With a 40-degree beam angle, users may produce wide washes with smooth color mixing from 63 built-in color macros utilizing red, green, blue, amber, white and UV LEDs. Not only is this LED Bar great for lighting stages and dance floors, but with its patent pending, intelligently designed, power and DMX connectors, it's great for uplighting a venue.
Product Features
Ultra bright, 23-inch (.5 metre) indoor Linear Bar with 6 x 10W Ultra bright HEX (RGBWA + UV: 6-IN-1) LEDs
Smooth RGBAW + UV color mixing
Great as an architectural wall wash or for performance stages where traditional stage lighting emit a lot of heat onto performers
63 built-in Color Macros
6 operational modes: Auto Run, Program Mode, Sound Active, RGBWA + UV Dimmer, Static Color and DMX-512 Mode
5 DMX Channel Modes: 6, 7, 8 ,12 or 18 channels
LED pulse and strobe effect
Patent Pending Quick Align (Magnetic)
Flicker Free operation (No flickering on camera)
Product Specifications
General
Beam Angle: 40 degrees
2x8 Character LCD Display
Electronic Dimming: 0-100%
Long Life LEDs (Rated at approximately 50,000 hrs.)
5 selectable Dim Curves (Standard, Stage, TV, Architectural & Theatre)
Physical & Dimensions
Length: 585mm
Width: 110mm
Height: 165mm
Weight: 6lbs