TouchMix 16 Mixer 16Mic/Line+2 Stereo Touchscreen Mixer
« return to previous page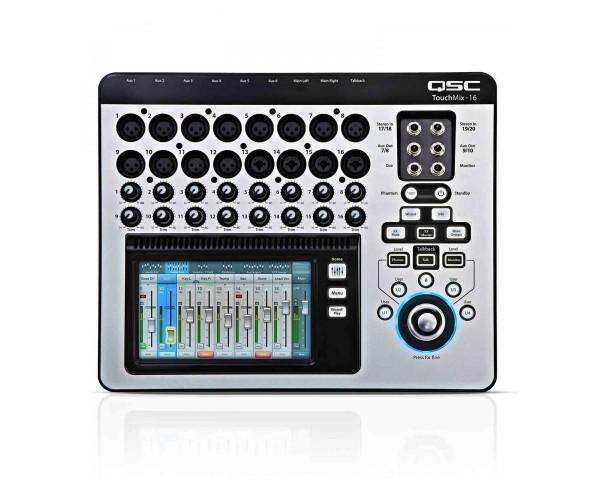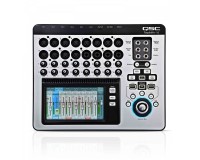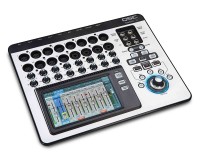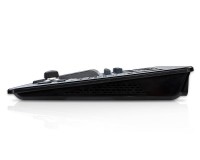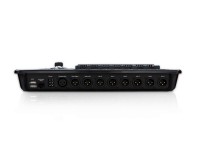 Price:

Code:

QSCTM16

Manufacturer Code:

TouchMix-16

Brand:

Stock availability:

Stock:
Main Features
Created for musicians, production professionals and live performance venues
Mixing console in a compact, affordable and easy to use form
Functionality to satisfy demanding professionals
Functions that help the less experienced user achieve quality results
A breakthrough in innovation and digital mixer design
Remarkable collaboration between QSC, Greg Mackie and Peter Watts
TouchMix 16 Touch Screen Mixer
Created for musicians, production professionals and live performance venues, TouchMix Series mixers go Beyond Mixing™ to deliver amazing results to users at all levels of experience. For live sound professionals, TouchMix has everything you would want and expect in an advanced, world-class mixing console - in a package small enough to be carry-on luggage. If you are a more casual user, TouchMix Presets, Wizards and Simple Modes help you get a professional mix quickly and easily. In either case, once you experience TouchMix for yourself you will understand why both pros and novices alike rave about their TouchMix and consider it one of the best purchases they have ever made.
Keep your TouchMix up to date. Visit https://www.qsc.com/live-sound/resources/software-and-firmware/touchmix for the latest firmware upgrades.
Product Features
Eight DCA and eight mute groups
Assign / Un-assign Input to Main Mix
Programmable User-Button
Save your own channel pre-sets and complete mixer scenes to internal memory or USB device.
Capturing live performance to multi-track has never been easier. Record 14 tracks (all inputs plus a stereo mix) directly to USB hard-drive. Mix down on TouchMix or import into your favourite DAW
Security Lockout Modes
USB Wi-Fi interface and carrying case are included
Product Specifications
General
Display: 6.1" × 3.5" (156 mm × 90 mm) colour TFT, touch sensing
Inputs (Mic/Line): Four XLR/TRS combo | 12 XLR | Two stereo 1/4" TRS
Input (Talkback): One XLR
Outputs
Two main XLR line-level | Six aux XLR line-level | Two stereo aux. TRS (line-level or in-ear monitor, 16Ω min. impedance) | One stereo monitor TRS (line-level or headphone, 16Ω min. impedance) | One stereo cue TRS, (line-level or headphone, 16Ω min. impedance)
Mic & Line Input Channel Processing: 4-band parametric EQ with high/low shelving option | variable 24 dB/octave HPF & LPF, gate, compressor
2-Track (USB) & FX Return Processing: 2-band shelving EQ, variable 24 dB/octave HPF, gate, compressor
Output Channel Processing: Main outputs and auxes 1–6: 1/3 octave GEQ | Limiter | 4 full-frequency notch filters | Variable 18dB/oct Low-cut and High-cut filters Auxes 7/8 & 9/10 (TM-16 only): 4-band PEQ, Limiter | Additional variable 18dB/oct Low-cut and High-cut filters
Recording: 22 tracks, requires USB 3.0 HD | FAT32 format | minimum 7800 RPM
Groups: 8 DCA groups (with mutes), 8 Mute groups, auxiliaries may be used as sub groups
Cue: Selectable AFL or PFL
Effects: 4 professional effects engines including reverb, echo, delay, chorus. 50 factory, 50 user pre-sets | 1 pitch correct (assignable to any mono input channel)
Scene and Pre-set Memory
Scenes: 130 user-defined scenes, including all mixer parameters may be stored internally or on FAT32 formatted USB Channel and FX
Pre-sets: 130 user-defined channel pre-sets and 130 FX pre-sets may be stored internally or on FAT32 formatted USB
External Control: iOS TouchMix app for iPad, iPad mini, iPad Air. Control via Wi-Fi provides access to all mixer functions. Requires iOS 6 or higher
Wi-Fi: USB Wi-Fi adapter included
Physical & Dimensions
Height: 58 mm
Width: 360 mm
Depth: 291 mm
Weight: 2.98 kg
Power: 100–240 VAC, 50–60 Hz
Sampling Frequency: Selectable 44.1 kHz or 48 kHz
Internal Processing: 32-bit floating point
Frequency Response: 20 Hz–20 kHz ±0.5 dB, any input to any output
Dynamic Range: 105 dB
Equivalent Input Noise: -126 dBu
Residual Output Noise: -86 dBu
Crosstalk: -80 dB
S/N Ratio: -94 dB
Maximum Input Level: +16 dBu (Mic/Line inputs, XLR), +26 dBu (Mic/Line inputs, TRS), +22 dBu (Stereo inputs)
Phantom Power: 48V, individually switchable per channel
What's in the Box?
USB Wi-Fi adapter
Soft carrying case
Power supply
Optional accessories (sold separately):
SDD Memory card
TMR1 rack mount kit